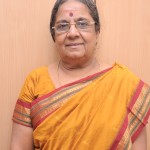 About Smt.Geetha Saraswathy!
She Born in the month November 1946 in Tanjore, the cultural and divine place in Tamil Nadu, she had the deep love in learning Bharatanatyam since her childhood, her parents spotted the potential and provided her proper training and made her wish to come true. Her father, Mr.Sivakumaran Iyer, B.A. L.T. (Maths) is against child marriage and follower of Mr.J Krishnamoorthy, and associated with Theosophical Society and Smt.Rukmani Arundale.
Smt.Geetha Saraswathy performed many dance programmes and stage dramas in her earlier years of career. She had won a lot of appreciations and her reviews were posted in many newspapers like The Hindu, Naradhar, Dina mani, The Indian Express, Malayalam Manorama, Kumudam & Ananda Vigadan respectively.
Grandparents
Mr.Natarajan – He had lot of devotees and disciples through Mr.Guhadass who had written many books in the title World Spiritual-Athma Yoga. Famous book Subramani Prasanna Mala Mandiran, Lord Subramaniayam.
Qualifications
Academic Qualification: S.S.L.C.
Other Qualification : Carnatic Music Lower Grade – Nov'59
Bharatanatyam Lower Grade – 1975
Guru
Smt.Lakshmikantham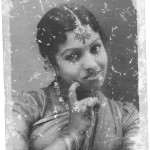 Engann. Sri.Govindaraja Pillai
Engann.Smt.A.S.Rajalakshmi, w/o.Karukuruchi Arunachalam, famous Nadaswara Vidwan, and cousin sister of Smt.E.V.Saroja
I am proud to have these two great teachers as my guru(s) in my earlier years of learning bharatanatyam and both of them are excellent and possess divine knowledge in the art of God (Bharatanatyam).
First arangetram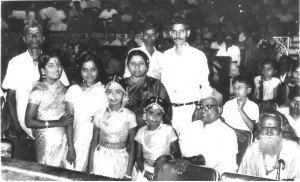 18th March 1956 @ Ramanadan Chittiar Hall
Guest: R Mahadevan, writer "devan" of ananda vigadan
In 1962, Chennai – First dance programme arranged by Thiru.N.S.K, T.N.Maduram's daughter Vadiyu Ammal marriage, Thiru.M.G.Ramachandaran (former chief minister of Tamil Nadu) as chief guest.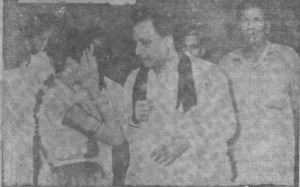 Drama Performances:
Theatre Drama
T.K.S. Troupe
A.V.M. Rajan Troupe
Amateur Troupes
Madras Natya Sangh Tamil Dramas
Award:
Abinaya Award in Nirthya Kala Mahanadu in the year 1964.
Dance Classes:
Since 1972 till now, conducting dance classes under the name of Geethalayam (School of Bharatanatyam).
1978 – 1995 – at vanavani Matriculation Higher Secondary School, IIT Campus, chennai.
1986-1987 – Mowbary's School, Teynampet, Chennai
1994-1995 – Anna University Campus Quarters, Chennai
Salangai Pujas : More than 1000
Arangetrams: Nearly 300
| | |
| --- | --- |
| 1st | : Baby.Renuka & Chandrika, December 1976 at Museum Theatre, Chennai. |
| Guest | : Sri.A.N.Parasuram Minarva, Mangudi.Sri.R Thurairaja Iyer, Smt.Visalakshy Neduchezhian. |